Meet the Board of Directors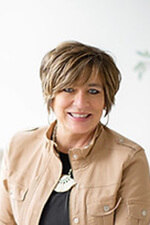 Jeri Hartley
Chairperson
Rector Hayden Realtors
Jeri Hartley has been in Real Estate for over 15 years. She is a top producer with Rector Hayden Realtors and a member of the Top Producers Club.
Jeri's interests and involvement in local government and community include Woodford County Planning and Zoning, past member of PVA Board of Appeals & Woodford County Architectural Board of Review Committee. Jeri donates and volunteers with local Addiction Recovery Programs & Charities, Woodford County team sports, and Woodford County Schools.
Jeri is also President and Co-Creator of The Woodford Charm, a local magazine about local people. Two of her sons (Cory & Casey Cooley) and her daughter in laws (Katie & Sara Cooley) showcase their talents by highlighting people and places that make Woodford County so amazing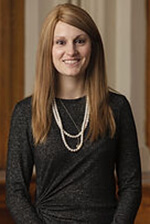 Christie Eckerline
Vice Chair
The Kentucky Castle
Born and raised in Lexington and now raising her own family here, Christie Eckerline has always had strong ties to the community.  She graduated with a double major in economics and history from Centre College in Danville, KY.  After college, Christie began her career at Alltech with a job in Marketing and Events.  During her time at Alltech, she was involved in the planning of the 2010 World Equestrian games.  
As the COO of The Kentucky Castle, Christie is dedicated to providing a venue for people in our community to enjoy and celebrate life's milestones. Christie also serves on the board of the Blue Grass Charity Foundation which celebrates community involvement and service of young women.  When she's not working or involved in the community, she enjoys family time with her husband, Tripp and two young daughters Rosie and Bell.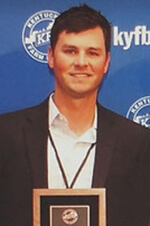 Austin Wingate
Past Board Chairperson
Kentucky Farm Bureau Insurance
Austin Wingate was born and raised in Winchester Ky. He is an agent for Kentucky Farm Bureau Insurance in Woodford Co where he now resides. Farm Bureau is the largest insurance provider in Woodford Co as well as the State of KY. Austin takes great pride in servicing and taking care of all of his client's insurance needs. He is a performance driven professional who is passionate about helping others by protecting their families' assets. Austin serves on the local Farm Tour Board, Farm Bureau Board, Farm To Table Board, Leadership Woodford Co, & has been the Area Chairman for Woodford County Ducks Unlimited for the past three years.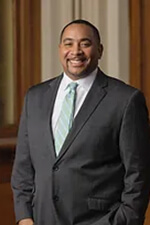 Thomas Davenport
Thomas began his career in banking in 2006. Four of those years were spent at US Bank as a mortgage lender and Sales Manager. In 2019, my family and I moved from Cincinnati, OH to Lexington, KY where I began my career with Wesbanco as as District Sales Manager. I cover offices in Scott, Fayette, Woodford and Jessamine Counties.
Mr. Davenport is the founder of a non-profit, Financial Educators of America, Inc., which provides financial literacy to teens and young adults. Mr. Davenport holds a Bacherlor's from Penn State. He is happily married for 13 years with three young children- all boys. They are a football loving family and Mr. Davenport played football at Miami University. He shares the love of the sport with his sons and by coaching youth in Scott County!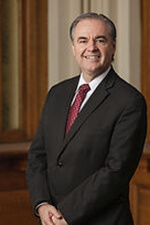 Tim Culver
Board Member
Midway University
Tim Culver is Vice President of Advancement at Midway University, where he has served in that role since August 2018. Prior to that, he held a similar position at Lexington Catholic High School.
Other posts held by Culver include serving as Executive Director/Director of Major Gifts for 14 years at the Trinity High School Foundation in Louisville; Director of Communications in the Office of the Mayor in Louisville; and, as Executive Director of the United Way of Franklin County. Other career experiences include serving as a news producer for WKYT-TV in Lexington and as a public relations consultant for The Preston Group, Inc. 
Culver is a native of Louisville where he attended Trinity High School. He earned his Bachelor of Arts in Broadcast Journalism from Western Kentucky University. He and his wife, Ruth, have five children.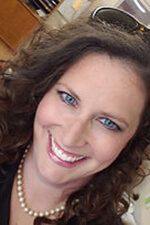 Megan Fields
Board Member
Eckert's Orchard
Megan Sowder Fields is the farm manager at Eckert's Orchard. A life long Woodford County resident with a long history of family farming in the county and is a 1995 Woodford County graduate. She worked 20 plus years in Accounting for 2 companies in Lexington before joining the team at the orchard.  
Megan also served as the Children's and Youth minister in Woodford County for 12 years. 
Megan currently serves on the Woodford County Extension Advisory Board as well as the Kentucky Horticulture board.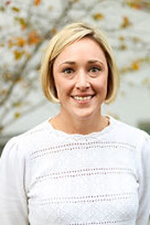 Cassie Barnes
Board Member
Hoffman & Barnes Law Firm
Cassie W. Barnes is a partner at Hoffman & Barnes. She obtained her Bachelor's Degree from Murray State University in 2005 where she majored in English and Creative Writing, and obtained her Juris Doctor Degree from the University of Kentucky College of Law in 2008.
Cassie has practiced law in Woodford County for more than 12 years and specializes in Real Estate, Probate & Estates, Corporate Law and Collections, and is proud to serve Woodford County as an Assistant County Attorney under Alan George. Cassie is also President of D.A.R.E. of Woodford County, a long-outstanding program in the County that educates students about the hazards of drug use.
When not working, Cassie enjoys spending time with her husband, Chris, and their three kids, Harris, Ruby and Emmett, and running.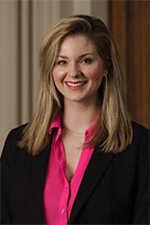 Elaine Bailey
Board Member
Woodford County Public Schools
Elaine Bailey graduated from Transylvania University in May 2016 with a Bachelor of Arts in Writing, Rhetoric & Communication. Upon graduation, she set out for Memphis, Tennessee, for three weeks of intense training to become a National Leadership Consultant for her sorority, Chi Omega. In this role, Elaine spent two years traveling to nearly 40 colleges and universities to ensure quality, safety, and consistency amongst Chi Omega chapters. She reported back to the national organization's Board of Trustees on the progress and status of each sorority chapter. Through this experience, Elaine sharpened her communication and public-speaking skills, enhanced her organization, practiced customer service, learned valuable internal and external marketing principles, and so much more.
Since February 2019, Elaine has worked for Woodford County Public Schools (WCPS) as the Public Information & Communications Officer.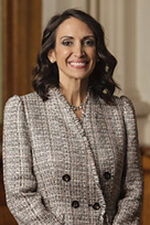 Cassie Prather
Board Member
Woodford County Health Department
Cassie Prather is the Public Health Director of the Woodford County Health Department where she works to prevent disease, promote wellness and protect the citizens of Woodford County. She relocated to Versailles in 2017 from her hometown of Mt. Sterling along with her husband John and their five children. 
Mrs. Prather holds a Bachelor's Degree in Health Promotion from Morehead State University as well as a Master of Public Health from Eastern Kentucky University. She is also a proud graduate of Leadership Woodford County.  
She currently sits on the board for the Woodford County Agency for Substance Policy is a member of the Healthcare Advisory Board at Midway University and serves as a member on the site-based decision-making council at Southside Elementary School.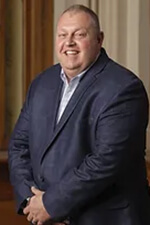 Michael Moorman
Board Member
Lakeshore Learning
Michael began his career in 1992 with UPS as a part time supervisor in Cincinnati Ohio.  Over the next 28 years he held many different leadership roles of increasing responsibility in Transportation, Logistics, Supply Chain and Distribution for some wonderful companies such as Staples, Home Depot, Office Depot, BlueLinx and now Lakeshore Learning.  Many of roles have been throughout the Midwest, Southern and New England states with stops in Findlay Ohio, Westfield Massachusetts and Hartford Connecticut.  In his current role as Senior Director of Eastern Distribution Michael is responsible for the Lakeshore Learning Distribution campus in Midway, KY.  He and his wife and will be moving to Georgetown, KY as soon as construction is complete on their new house in the spring of 2021.
Michael holds a bachelors degree in Business Administration from Wilmington College in Ohio and completed his post graduate work at the University of Notre Dame, where he played basketball and was part of the track team at Wilmington. 
Michael has been happily married to his wife Heather for 20 years and they have one son, Cory 28, who is a Chef in Cincinnati.  Heather and Michael both love basketball, football, golf and boating.  They're foodies and love to try new restaurants and seeing what new food creations our son comes up with.
Laurie Dorough
Board Member
Daisy Hill Senior Living
Laurie grew up in Versailles and is a 1994 Woodford County graduate. Laurie attended Eastern Kentucky University and graduated with a B.A. in Park and Recreation Therapy where she received her certificate in Therapeutic Recreation.
She began her career out of college with the Alzheimer's Association, leading a dementia-specific adult day program and working in direct care and with the volunteers that supported the program's activities. Laurie serves as the Executive Director for Daisy Hill Senior Living and resides in Versailles with her husband, Jed and their three children, Abby, Jake & Anna. 
Providing ministry and leadership in the community in which she has grown up and now resides in is a gift and honor.